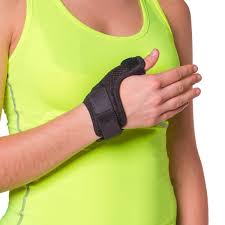 The thumb is subjected to high loads during a lifetime. The pivotal point is the thumb saddle joint.
It hides itself in the thumb ball and allows the rotation of the entire thumb and the opposing of the thumb to the other fingers (so-called opposition). An arthritis of this joint is called rhizarthrosis and is relatively frequent: 10% of women over 50 years are affected, in men, this type of osteoarthritis is less frequent.
Symptoms
"I can not open a bottle.
Objects suddenly fall from my hand.
Sometimes I have pain in the back of my head or at night."
Diagnosis
By a simple X-ray examination in 2 planes. This shows a narrowing of the joint gap, possibly also emigration of the thumb from the saddle joint, sometimes cystic changes in the interior of the bone.
The passive movement of the joint creates pain and provides important information about the sliding behavior of the thumb saddle joint.
The joint gap between the large polygon and the base of the first metatarsal is no longer present. The contact surfaces of these two bones form the thumb saddle joint. Here bones rub bone.
The bony extensions on the large polygon are also known as osteophytes and represent a further cause of pain, as these attachments can rub against the neighbors and continue to interfere with the function of the thumb. The joint wear can additionally lead to the development of cavities in the joint-proximal sections of the bones, so-called cysts.
The abrasion of the joint surfaces leads to instability of the joint and to emigration of the medial bone from the thumb saddle joint. An expansion of the joint develops (so-called dislocation or in the initial stage subluxation)
Therapy
At the beginning of the disease there is the possibility of non-operative therapy: temporary immobilization in a gypsum or orthesis (e.g., Rhizoloc splint), the administration of anti-inflammatory drugs in tablet form. The use of handtherapie can also be helpful. Here, techniques for relieving the thumb in everyday life can be learned.
Hyaluronic acid injection
Scientific studies and own experience have shown that an injection with hyaluronic acid directly into the joint can be very helpful in the not yet advanced stages of the disease. This is especially true for patients who are still undecided regarding an operation or who have no time for professional reasons. The injection is performed under X-ray image transducer control to ensure that the needle in this small joint can also lie correctly and unfold its full effect. However, this is a self-payer service (information in our practice). Some scientific sources confirm a positive effect of hyaluronic acid in the treatment of rhizarthrosis.