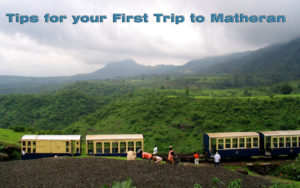 Matheran is a charming hill station in Maharashtra, easy to reach from nearby cities like Mumbai and Pune. Established by the British as a summer retreat, it has since developed into a popular getaway destination. Travellers to Matheran discover that it is an eco-sensitive zone, the reason why vehicles are banned here. Matheran is the only strictly-pedestrian hill station in the country. If you are planning your first visit to Matheran, you are in for a treat. Book a hotel in Matheran and read up on what you can expect there. Coming up are some tips on how to reach and maximise your experience at Matheran.
How to reach Matheran – Matheran is only 90 km away from Mumbai and 120 km off Pune. Trains are available. From Mumbai, board the Deccan Express to reach Neral. If you are travelling from Pune, the Sahyadri Express will take you to Neral. From Neral, take the toy-train to Matheran Station. It is a leisurely ride with the route winding through the Sahyadri Hills. Keep your camera handy to capture a few pictures of the beautiful waterfalls along the way. Should you decide to drive down to Matheran, car parking is available at the Dasturi Park. Vehicles are not allowed beyond this point. You will however find horses and rickshaws to cover the last leg of the journey. Alternately, walk along the railway track to reach Matheran from the car park.
Making it to Matheran – Take the train to Neral and the toy train to Matheran after that. Orelse, drive down to Dasturi Park. Ride a horse or a rickshaw or trek up to your destination. It will take you about 40 minutes to get there.
Best Time to Travel to Matheran – Plan your trip to Matheran immediately after the monsoons,
…
Tips for your First Trip to Matheran

Read More