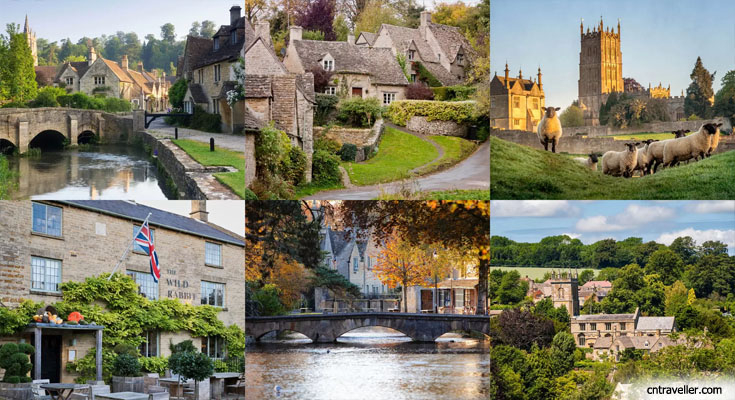 The Cotswolds is a beautiful region, which falls into the counties of Oxfordshire, Wiltshire, and Gloucestershire, among others. Designated an Area of Outstanding Natural Beauty in 1966, it offers a true perception of English rural countryside, with idyllic towns and villages, sweeping Cotswolds hills, and close-knit communities.
Despite the popularity of the Cotswolds you can still find peace, and be at complete ease within this beautiful area. Those looking for a self-catering holiday will find many options from charming, traditional honey-colored limestone Cotswolds cottages to the more luxurious and modern self-catering lodges. Alternatively, there are many guest houses and country hotels dotted throughout the picturesque countryside.
Walking in The Cotswolds:
One of the best ways to explore the region is by the endless walking routes across the Cotswolds countryside, whether you choose to join a guided walking tour or use your map. The marked trails of the Cotswolds Way, Gloucestershire Way, and Shakespeare's Way are among the best walks in the Cotswolds area, especially for first-time visitors.
Historic Sites and Gardens:
The Cotswolds is steeped in history with its grand houses, abbeys, and castles located throughout the region. The World Heritage Site of Blenheim Place in Woodstock is set among 2100 acres of beautiful parkland and landscaped gardens and is the birthplace of Sir Winston Churchill. Berkeley Castle in Berkeley is an outstanding example of medieval domestic architecture and has been the home of the Berkeley family for 850 years.
The Cotswolds is also home to some of the finest …
Cotswolds Holidays – Towns and Attractions

Read More